Gridded NUCAPS - NASA SPoRT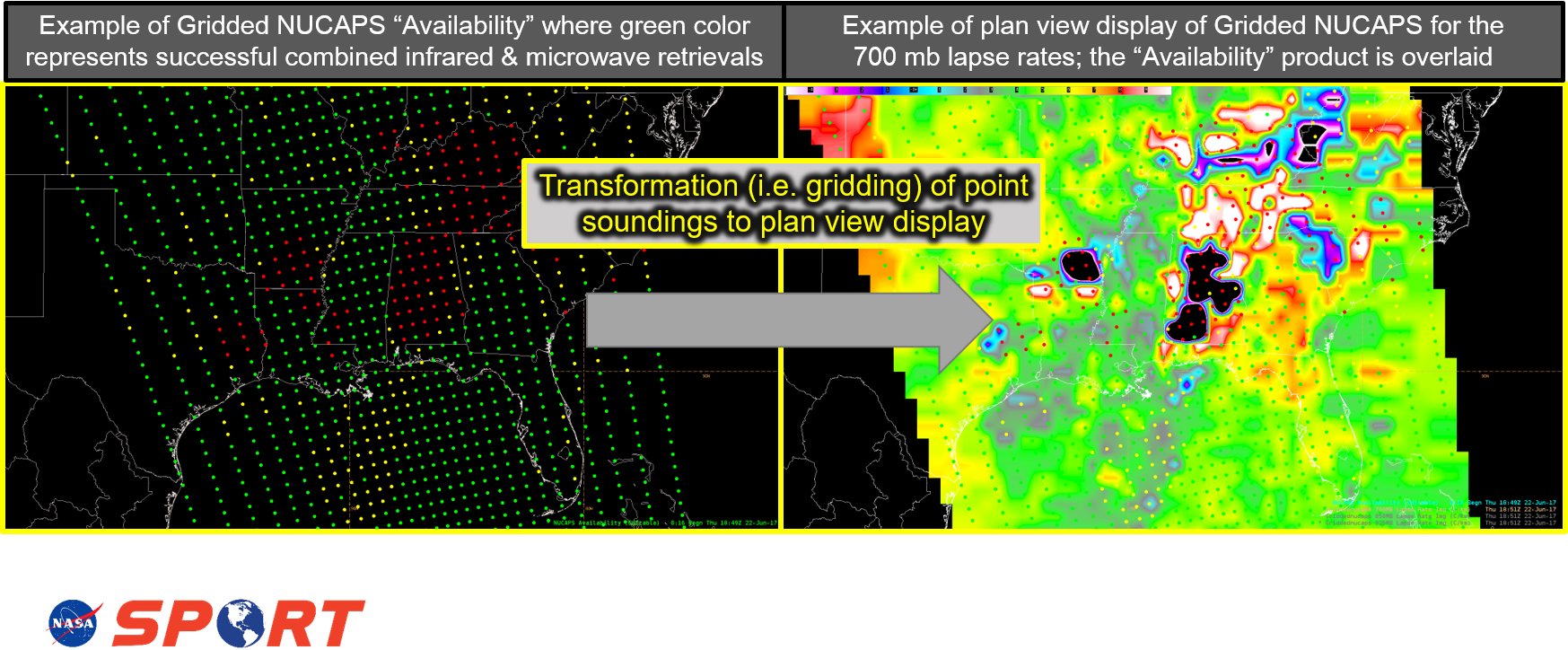 SPoRT has been part of a collaborative effort within the Joint Polar Satellite System (JPSS) Proving Ground Sounding Initiative* to provide plan-view and cross-section displays of CrIS/ATMS (Cross-track Infrared Sounder/Advanced Technology Microwave Sounder) temperature and moisture soundings in AWIPS (i.e., Gridded NUCAPS). Currently, NWS offices receive NUCAPS Soundings through the Satellite Broadcast Network (SBN) and Gridded NUCAPS is the capability to process and view these data horizontally and vertically. Gridded NUCAPS was originally developed to diagnose Cold Air Aloft (CAA) but can also be used to diagnose the pre-convective environment. Gridded NUCAPS has been evaluated at the Anchorage CWSU for the CAA forecasting challenge and at the Hazardous Weather Testbed for assessing the pre-convective environment. As part of the JPSS Sounding Initiative, the team of collaborators is exploring new applications for Gridded NUCAPS and working with developers to baseline the product in AWIPS. Gridded NUCAPS is expected to be released in AWIPS build 19.2.1. This Vlab site provides resources and tools to help NWS forecasters learn about and use Gridded NUCAPS in AWIPS.
Gridded NUCAPS is a follow-on product to the NUCAPS Sounding described in this prior lesson (link). Instead of a single profile view, the NUCAPS sounding data for all points along a pressure level or within a layer are used to create plan view displays of temperature-and moisture-based fields.
*including NOAA NWS, Science and Technology Corporation, the Cooperative Institute for Research of the Atmosphere, Geographic Information Network of Alaska, and Space Science Engineering Center/Cooperative Institute for Meteorological Satellite Studies
How to Load Gridded NUCAPS
Satellite Menu
In CAVE: Satellite → S-NPP and NOAA-20 → Gridded NUCAPS
Note: Data are loaded into separate frames, which may not be optimal for analysis. Click here to see a set of instructions (.ppt) on loading multiple frames into one large swath or you can watch this short video demonstration (.mp4, ~60MB).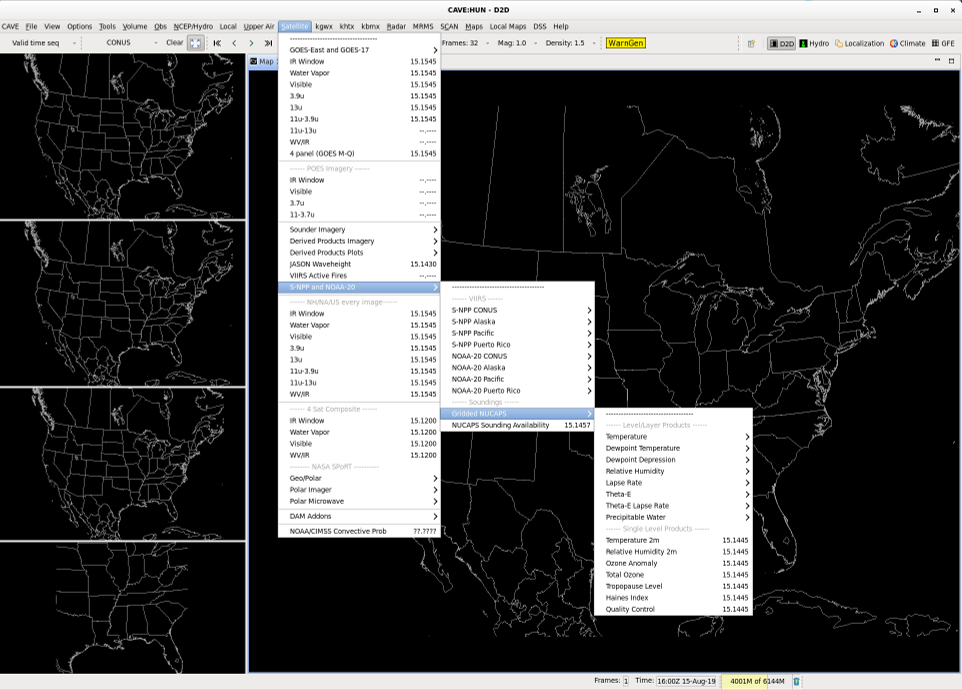 ---
Volume Browser
In CAVE: Volume → Browser
In the Volume Browser window, under the Sources section: Volume → GriddedNUCAPS, then select the desired data under the Fields and Planes sections.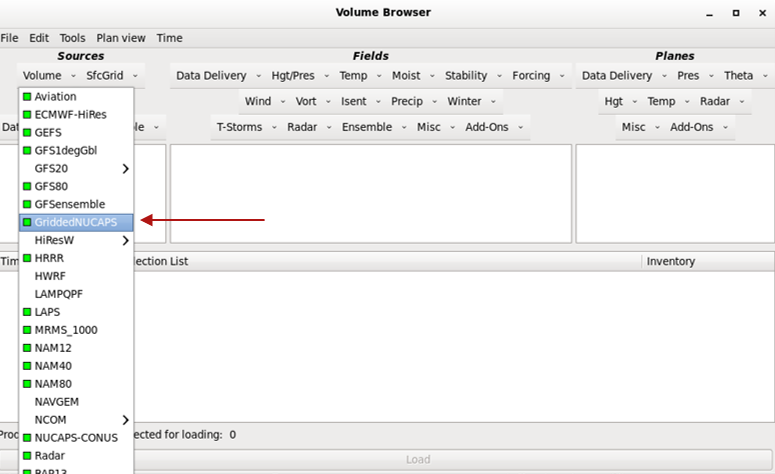 NWS stakeholders are currently assessing Gridded NUCAPS for utility with cyclone and upper air front/gradient analysis as a complement to RAOBs and NWP analysis and forecasts. NOAA-20 NUCAPS is available over the SBN and users can request S-NPP data for delivery over the LDM from SPoRT. The assessment runs from Dec 2020 through Feb. 2021. . Feedback can be in the form of rankings, text feedback, and image submission. Ultimately feedback will be used to inform product improvements and development to better meet user needs. Stakeholders interested in participating can contact Kevin Fuell via (sportnasa@gmail.com)
Want to Join the NUCAPS User's Working Group and/or Provide Feedback?...
Already a member of the NUCAPS User's Working Group or want to join? Please use the linked feeback form to request to join us! We'd also love to hear about your thoughts and uses with NUCAPS data! Please use the feedback form page to provide any feedback. These can be instances where the data were helpful or not helpful for your forecast and/or analysis. Any thoughts, questions or suggestions are welcome...thank you!
The current configuration of gridded NUCAPS data in AWIPS will need some fixes until this can be properly addressed with upcoming AWIPS builds. Click here to see the checks and temporary fixes that should be made to display the data properly.
Gridded NUCAPS - Analysis of the Pre-Convective Environment (~15 min module)
Level/Layer Products
Temperature
Dewpoint Temperature
Dewpoint Depression
Relative Humidity
Lapse Rate
Theta E
Theta-E Lapse Rate
Precipitable Water
Single Level Products
2m Temperature / RH
Total Column Ozone'
Ozone Anomaly
Tropopause Level
Haines Index
Quality Control
Important: See more information about each of the parameters listed above, including links to suggested color maps and regional-specific information about the Haines Index.