Composite Reflectivity Track 60min - Warning Decision Training Division (WDTD)
Products Guide
Composite Reflectivity Track 60min
Short Description
The maximum reflectivity in the column over the past hour.
Subproducts
None
Primary Users
FAA ATCSCC
Input Sources
Resolution
Spatial Resolution: 0.01o Latitude (~1.11 km) x 0.01o Longitude (~1.01 km at 25oN and 0.73 km at 49oN)
Temporal Resolution: 2 minutes
Product Creation
Composite Reflectivity Tracks are computed by taking the maximum value of Composite Reflectivity over the specified time period.
Technical Details
Latest Update: MRMS Version 10
References
None
Strengths
Like all MRMS products, the use of multiple radars is more robust than single-site radar alone. It provides faster updates and helps the forecaster integrate data from multiple radars. It also compensates for cone-of-silence, beam broadening at far ranges, and terrain blockage.
Limitations
Bright band contamination is not removed.
Quality Control
This product is derived from the 3D Reflectivity Cube, which means non-hydrometeorological data has been removed including: Ground clutter, anomalous propagation (AP), chaff, interference spikes, and bioscatterers (e.g., angels and ghosts). However, bright band contamination (i.e., anomalously-high reflectivity caused by melting snowflakes) remains.
Applications
Useful for tactical and short-term strategic decisions about air traffic routing
Example Images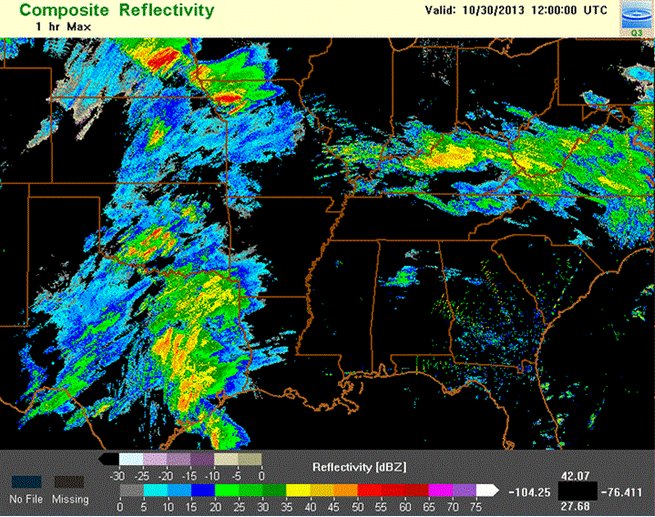 Fig. 1: Composite Reflectivity Track 60min on 30 October 2013 at 1200Z.

// ]]>