NOAA Virtual Lab - MDL
Overview
The NOAA Virtual Lab (VLab) provides an environment where collaboration and innovation among geographically diverse NOAA scientists and developers can thrive.
The Virtual Laboratory (VLab) is a service and an IT framework, lead by MDL/DSB and hosted within IDP, which enables NOAA employees and their partners to share ideas, collaborate, engage in software development, and conduct applied research. The VLab enables NOAA to:
Reduce the time and cost of transitions of innovations to enterprise operations,
Minimize redundancy and leverage complementary, yet physically separated, skill sets,
Forge scientific and technical solutions based on a broad, diverse consensus, and
Promote an NOAA culture based on collaboration and trust
Implementation
The VLab is comprised of two main components: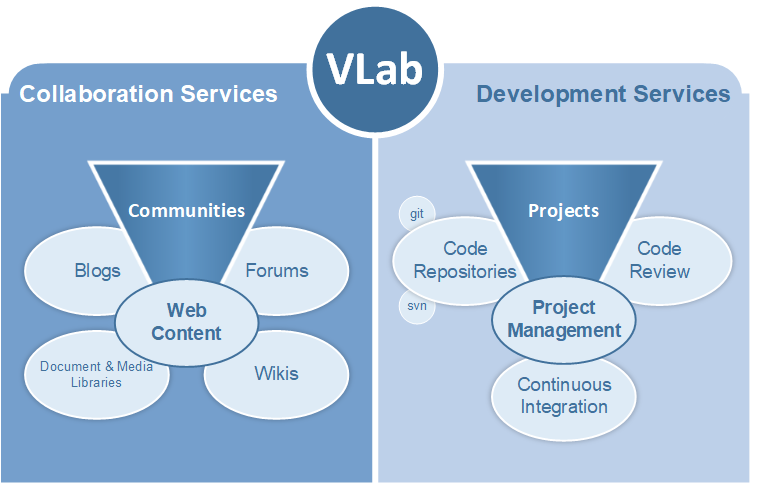 VLCS
VLCS provides collaboration tools within communities including:
| | | |
| --- | --- | --- |
| - Document libraries - | - Workflow - | - Dynamic forms - |
| - Wikis - | - Forums - | - Blogs - |
| | - Web content management - | |
VLDS
VLDS provides services and a framework supporting development to NOAA developers and partners. Services include:
Project management
Issue/Bug tracking
Revision control (git and subversion)
Code review
Continuous integration
Principles
The VLab operates under the following set of guiding principles:
| | |
| --- | --- |
| Transparency | The VLab and its staff are open and transparent in all communications and decision-making |
| Teamwork | The VLab and its staff facilitate and support collaborative teamwork |
| Flexibility | The VLab and its staff adapt to different and/or changing user needs |
| Responsiveness | The VLab and its staff respond quickly to user needs |
| Accountability | The VLab and its staff are accountable to its users through meaningful metrics |
For further information about NOAA VLab, please contact the VLab Support Team at vlab.admin@noaa.gov.