NBM Mailing List - MDL
Instructions for joining MOS/NBM Mail List Server
ATTENTION USERS: The Lyris mailing lists for MOS and NBM (infolist.nws.noaa.gov) will be shut down by April 29, 2021.
For those of you who are able, we encourage you to join the NBM Vlab Community to keep up-to-date with news about NBM and MOS (see below for instructions).
You may also contact Jeff Craven (jeffrey.craven@noaa.gov) for access to an alternate mailing list.
If you have any questions or problems please feel free to send email to the address in the "Contact NBM" portion of this page.
Join the NBM community forums
1) Join the NBM Community
To join the NBM community:
Click on "Available Communities"
Look for "National Blend of Models" (either sort alphabetically or input "blend" in the search box)
Click on the three dots (at the top of the box to the right of the community name), and click "join"
2) Go to https://vlab.noaa.gov/group/national-blend-of-models
3) Select the "Forums" tab in the horizontal blue menu bar at the top of the page
4) Choose the forums you want to subscribe to. There are currently three (you can subscribe to as many as you want):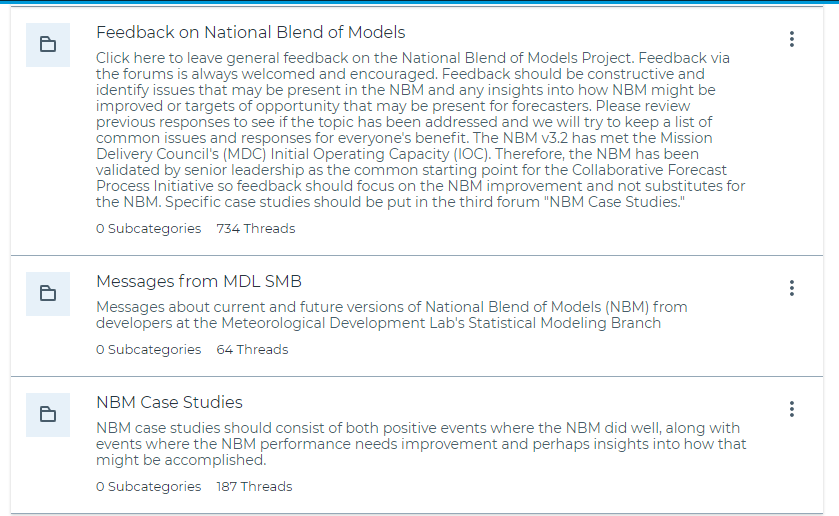 5) Select the 3 dots to the right of the forum you wish to join, and you can toggle Subscribe or Unsubscribe as needed.
In this example I am subscribed to NBM Case Studies and it would allow me to Unsubscribe:


For further information about the National Blend of Models, please contact The NBM Web Team
You can also join the NBM Mailing List by following sign-up instructions here.